October 2007

Hi friends,

Can you believe that Christmas is only two months away?

However, while you are in the Halloween spirit we have created this funny little video called, "

Daring, Darling Sonny Boy

" for your amusement:


http://www.metacafe.com/watch/878109/daring_darling_sonny_boy/


This year Molly and Sonny Boy are introducing the public to their heartwarming Christmas songs, including the original one they penned called, "

Christmas Reminds Us."



Other songs you'll love to hum along to on the 10-track CD include a mix of delightful

old-school rare and traditionally-popular holiday songs

. This entertaining album is available now for only $15.

Treat your ears to samples of their newly-minted CD,

"The Molly and Sonny Boy Christmas Show"

here:




http://cdbaby.com/cd/mollysonnyboy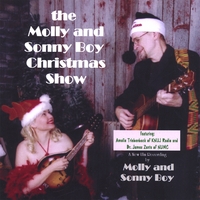 The

"Molly and Sonny Boy Christmas Show"

music performances

this year promise to be alive with tasteful comedy, wonderful singing and playing.




Here's what's new for audiences this year:

Molly and Sonny Boy have decided to employ techologically-recorded, legitimately-original, digital backing tracks containing awesome multi-instrumental rhythm and bass lines which will give you and your guests the chance to dance to Molly and Sonny Boy's Christmas songs if they want to, adding to the fun.



Bring The Molly and Sonny Boy Show to perform at your business and private socials and have a blast with their comedy and great music!

This year

The Molly and Sonny Boy Christmas Show

is a concert that you must see, and hear and attend.

Molly and Sonny Boy's rates are compatible with their clients needs. They are conveniently-equipped with a sound system, so you'll get the entire package with no hassles.

You can contact extroverted Minnesota recording artists, Molly and Sonny Boy, at the following email address to find out available dates, and rates.



Contact information for Molly and Sonny Boy:



Email:
mollyandsonnyboy@gmail.com


Phone: (507) 351-2293 for more information and bookings.

Just ask for "Molly and Sonny Boy."





Attention Media Contacts

: Minnesota singer-songwriters Molly and Sonny Boy would love to share their life stories, along with their video, audio recordings, news stories, and photos chronicling the evolution of this duo with you.

You can learn more about them including the musical aspects of their recording sessions, along with the adventures they've had playing gigs at big and small events in this glorious state of Minnesota.

They also want folks to view and enjoy Molly and Sonny Boy's entertaining

free

Video Podshow, which is an Internet video resource that focuses on the art of songwriting.



The Molly and Sonny Boy Vodcast-Podcast"

has been called,

"Weird, funny and kewl"

by one viewer.

You can watch it anytime at your leisure:


http://mollyandsonnyboypodcast.podshow.com/


If any mediafolk would like to find out more about Molly and Sonny Boy's multi-media endeavors, they may call us directly about this at 507-351-2293. You will discover that Molly and Sonny Boy are not your run-of-the-mill music artists. They have also published a 14-track original music CD called, "Rhthym 'N Blues (Grass)."

Get song samples free here:


http://cdbaby.com/cd/mollysonnyboy2


Check out our home page to see photos, backstory on the duo at
http://www.mollyandsonnyboy.com
and learn more about Minnesota's own vibrant and talented (German-Americans) Molly and Sonny Boy.

This Minnesota music duo made up of an MD specialist in Emergency Medicine Dr. James H. Zents (

Sonny Boy

~music composer/producer and multi-instrumentalist) at the New Ulm Medical Center and an on-air radio broadcaster at KNUJ radio, Amy Triebenbach(

Molly

~singer/songwriter/music teacher) who can be heard on the airwaves at AM 860 KNUJ and on the Internet at
www.knuj.net


Amy (Molly) is a regular host of the Sunday afternoon KNUJ Polka Parade.

Molly and Sonny Boy live exciting and interesting musical and professional lives in the Christmas City of New Ulm, MN.





FYI: A bit about Molly and Sonny Boy:



Molly and Sonny Boy do not drink alcohol, smoke or eat meat, but they definitely

love






coffee,

writing parody songs, their latest is a hilarious take on

"Long Black Veil,

they have titled,

"Long Grey Hair!"



and M & SB love performing music for appreciative audiences.





Molly and Sonny Boy are highly-skilled Minnesota recording artists and multi-instrumental singer-songwriters who love to share their creative voice in a unique and unusual way.

They hope you will enjoy their music during the holiday season whether you purchase one or both of their CD's.

Enjoy the Molly and Sonny Boy Christmas Show CD this holiday season. We feel all music-lovers will savor their unique interpretation on some old familiar favorites. You will notice that every track contains a new spin on these classic Christmas songs, whether in the vocals, instrumentation or arrangements. It's a wonderful CD your folks and kids will cherish for many years. It's a treat of world-music in a soup of rock 'n roll, blues, jazz with just a hint of the classical. Bon Appetit!

Musically yours,

Molly and Sonny Boy

PS. Molly and Sonny Boy's original credo is simply this:

"

"Kindness lasts forever."



-

Jungle Cat/ Chon Tam Music Publishing 2007



_________________
Podshow hosts "Molly and Sonny Boy" invite other podcasters to use their music free. The public may also hear free samples of entire Molly and Sonny Boy songs at the following url:
Hear 10 free samples of the music

from our new CD "The Molly and Sonny Boy Christmas Show, just go to
Businesses start getting ready for Christmas!
Book Recording Artists Molly and Sonny Boy for your Holiday parties, dinners and celebrations. We do weddings too!
You may purchase our "Molly and Sonny Boy Christmas Show" CD at the following New Ulm business locations:





Amy Triebenbach Music Studio






New Ulm Chamber of Commerce




Patterson Diamond Center, New Ulm, MN




Anytime Fitness, New Ulm, MN




Jacob and Meidl Music, New Ulm, MN




KNUJ Radio, New Ulm




and on

www.knuj.net